blog.jj5.net (2003 to 2005)
Cisco online quiz
Mon Mar 15 21:48:00 UTC+1100 2004
Categories:
So I'm doing this networking course, it's all online via Cisco. It's basic networking stuff, and sitting through the material is about as exciting and challenging as watching grass grow. For example, I got to wait for 40 minutes the other day while the tutor explained (over and over and over) how a bit-wise logical AND works. Sure, I'm arrogant. But you're stupid.
Oh, and on stupidity, get this. Cisco has this little 'quiz' that they give you at the end of a 'module'. They marked me wrong for saying that Silcon and Carbon are insulators. Fucking idiots.
Before you bother to tell me, I know about carbon and silicon OK. I know about the doping process, and that each has metalic and non-metalic properties. I'd prefer to put both of them in insulators if I had to choose a single box, as would anyone else with half a brain.
The more I think about this, the angrier I get. The people responsible for this course-work are probably as doped up as the silicon in the ICs in the computer they used to record it. Of course, they agree that 'glass' isn't a good conductor, I wonder what they think it is made from..?
Ballbags!
John.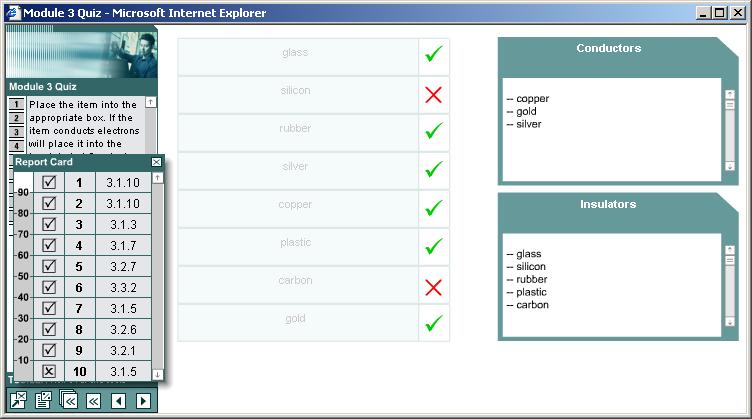 re: Cisco online quiz

John on Mon Mar 15 22:32:00 UTC+1100 2004 said:

I guess I should say something extra before I get decked. Graphite is more common than diamond, so perhaps Carbon is more like a conductor than an insulator. Regardless, the question is a crappy one, and when I think Carbon I my mind goes: Diamond, Charcoal, non-metal, insulator. I guess I should give graphite more credit. I'm still pissed off, everything about that question is wrong.

John.

re: Cisco online quiz

adam laskowski on Thu Jul 22 10:33:00 UTC+1000 2004 said:

this fucking quiz blows I hate it, Its such a waste of my time

---