blog.jj5.net (2003 to 2005)
Crystal Reports, Business Objects, WHAT!? You Blow!
Wed Feb 4 02:43:00 UTC+1100 2004
Categories:
I thought I'd have a play with Crystal Reports that shipped with my version of Visual Studio.
I really hate the way that you get bullied into telling people who you are. It shits me. I don't want to go on another frigging mailing list.
Anyway, all angst aside (pfft, who am I kidding): I opened a sample report in Visual Studio, and it loaded in the designer. It nags me about 'registering' online, etc. I've already entered the product code, why on earth would I want to register and 'tell them about me'. It's just a waste of my time and basically fucking rude. But some of the features didn't seem to be working, and it kept popping up this dialoge, so I thought, look if the only way to get you to fuck off is to fill you out, then fine, I hate you and I give in.
Imagine if you went to buy a pair of shoes, the guy in the shop gives them to you and you give him $100. Then he grabs the box while you are holding it, and just about to leave and puts if back on the counter with a firm hand on top of it. Then he says, by the way, 'who are you, where do you live, how many kids do you have, and what is a good time for me to call you? by the way would you be interested in getting our monthly newsletter?', so naturally you'd tell him to get fucked, then you'd rip your box off him and head for the door. But then 'security' would arrive. They'd say, 'in order to protect your personal information and make sure you have an enjoyable customized experience in the shopping center, we insist that you tell us your name, phone number, e-mail address and who you work for'. You say fuck it, I want out, you are the rudest people I've ever had to deal with, you know what, forget the fucking shoes. I'll go home and make my own shoes. You know what, keep the fucking money even, just fuck off.
Then they tread on your bare-feet, and your friend walks in and says, gday. He's wearing a nice new pair of shoes. You think OK, fine, I give in, here what do you want to fucking know? Security raises an eye, the clerk walks over, you pull out your wallet, how them your drivers license, your Medicare card, your passport, the picture of your pet fish, you know _everything_. Then what do they say. I'm sorry, that is not a valid fish. In order to support your news shoes, we insist that you have a valid pet fish. You say: WTF! It _is_ a valid pet fish, it's a legitimate conforming frigging fish, here look again! Nope. What do you mean nope? Then nothing. No one to talk to, nothing to do. They already have all your information, since they've seen it, but that haven't acknowledged that they've received it, because they deny that your fish is valid, and now they are just stone walling you.
OK, I'm tired and angry and rambling about fishes (and calling them 'fishes' too).
Let a picture tell a thousand words: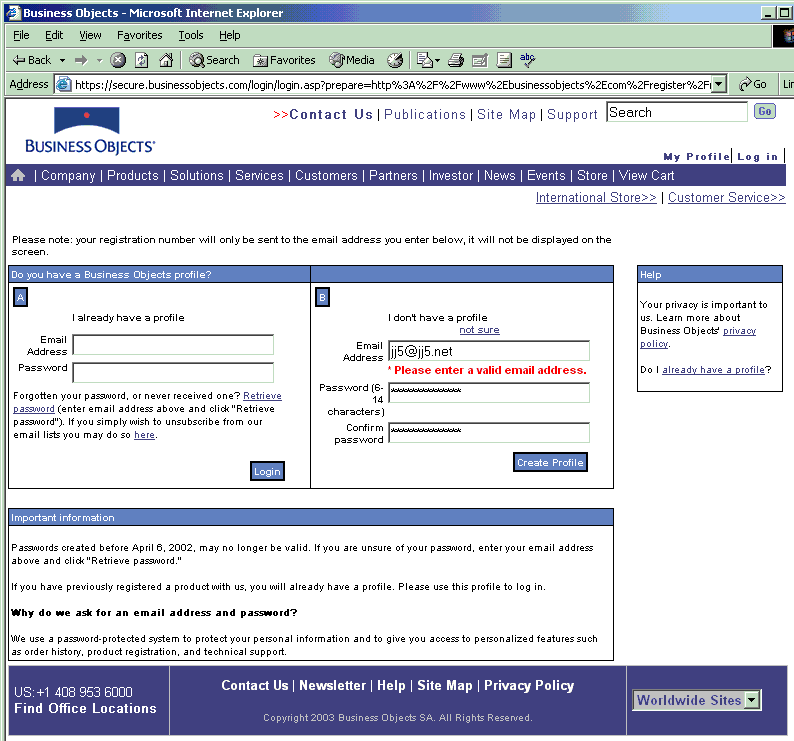 John.
re: Crystal Reports, Business Objects, WHAT!? You Blow!

John on Wed Feb 4 03:15:00 UTC+1100 2004 said:

You know, I probably wouldn't be so angry if their software actually _worked_.

I have context menus, they say things like 'Add/Remove Database..' etc, I click them and the context menu disappears. Nice feature guys. What about the part where a dialog box pops up and asks me stuff, you know, the part where I can _do something_ with your software. Or are you just showing me how cool windows context menus are? They're nice hey, one day when your big programmers, you could actually put some code there that actually like show me some configuration options, or like tell me something, you know, no hurry, just when your ready, baby steps and all.

You see what I've been reduced to? Sarcasm. I'm _that_ pissed off.

John.
---